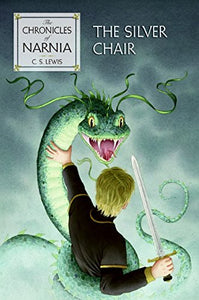 Chronicles of Narnia: The Silver Chair Book # 6
The full color jacket features art by three time Caldecott Medal-winning illustrator, David Wiesner, and black-and-white interior art by the series' original illustrator, Pauline Baynes.
Through dangers untold and caverns deep and dark, a noble band of friends is sent to rescue a prince held captive. But their mission to Underland brings them face-to-face with an evil more beautiful and more deadly than they ever expected.
C. S. Lewis works his magic once again in The Silver Chair, the sixth book in the classic fantasy series, which has been drawing readers of all ages into a magical land with unforgettable characters for over sixty years. This is a complete stand-alone read, but if you want to discover what happens in the final days of Narnia, read The Last Battle, the seventh and concluding book in The Chronicles of Narnia.