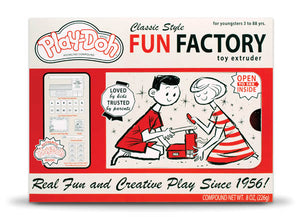 Play-Doh Classic Fun Factory Playset
Kahootz invites all to engage their new nostalgic Play-Doh Classic Style Fun Factory and experience of the number-one, parent-trusted, kid-approved, modeling compound enjoyed by generations since 1956. Shaped like an actual factory building, the "retrogressive" Fun Factory extrudes Play-Doh in cool, imaginative shapes like spaghetti noodles or I-beams for constructing artwork, etc. Eight different vivid colors of unique compound allow designers to produce Fun Factory creations: mix, match, pump, press, stamp, squish, roll, squeeze, and shape kids of all ages know with Play-Doh imagination is the only limit. 
Set comes with 8 x 1-ounce cans of Play-Doh, 1 Classic Style Fun Factory, 12 Fun Factory Shape Plates, 1 Trimming Knife, 1 Double-sided Laminated Play Mat, plus an easy-to-follow Idea Guide.
With the Kahootz Classic Style Fun Factory, youngsters can enjoy timeless, open-ended creative play; parents can re-live their gleeful childhood memories spent with Play-Doh and their own classic Fun Factory. Some cool facts: Over 950 million pounds or more than 2 billion cans of Play-Doh Compound have been squished and squashed since 1956. If you made a big ball of all the Play-Doh Compound ever created, it would weigh more than 700 million pounds. Urban legend has it that if you took all the Play-Doh Compound created since 1956 and put it through the Play-Doh Fun Factory playset, it would make a snake that would wrap around the world 300 times. Play-Doh Compound is the number 1 reusable modeling compound, with over 100 million cans produced each year. Seven million Play-Doh Fun Factory playsets have been sold since 1999. Play-Doh has been a staple playtime classic delighting kids around the world for generations.