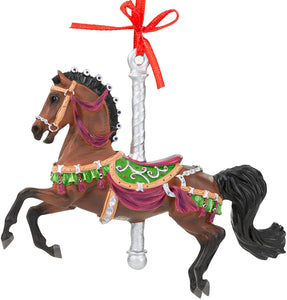 Timeless appeal: Classic and alluring, it's hard to resist the charm of a carousel horse, and Herald is no exception! Designed as a "jumper" carousel horse that would have all four legs off the carousel's platform, spirited Herald is ready to rally celebrants and lead your holiday festivities. Decorated with swaths of red and green ruffled fabric, chain detailing, and beautiful tack, Herald is a lovely addition to any holiday decor.

Collectible: 22nd in the holiday horse series

Product specifications: package contains (1) Breyer Carousel Ornament - Herald. Measures approximately 4" L x 3.75" H. Breyer stunning sculpture celebrates the legend and brings another artistic portrayal to life.

BREYER'S 25th HOLIDAY COLLECTION: Our holiday collection is celebrating its 25th year of spreading festive cheer. Each item has been crafted by the equine experts at Breyer, complete with the realistic sculptures, thoughtful details, and unique touches that your customers have come to expect. This year's collection features items that are sure to please your holiday shoppers – from pieces that spark feelings of nostalgia, to exciting on-trend favorites!

Hand crafted detail: The world's 'most asked for' Horses since 1950. Each individual Breyer model is prepped and finished by hand and then turned over to the painting department for hand painting and detailing. In all, some 20 artisans work on each individual model horse, creating an exquisite hand-made model horse that is as 

individual as the horse that inspired it.