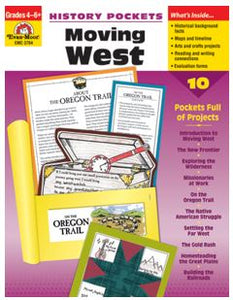 Bring history alive as students explore the fascinating past by making the interactive projects in History Pockets. Students store the projects in easy-to-make construction paper pockets that are wonderful portfolios for assessment and display.
Common Core Top Pick for Reading Literature and Informational Text
• Key Ideas and Details
• Integration of Knowledge and Ideas
• Range of Reading and level of Text Complexity
History Pockets-Moving West, Grades 4–6, contains ten discovery pockets. The introduction pocket gives an overview of the westward movement. The other pockets feature nine adventurous groups of people who took part in the westward movement.
Each of the pockets contains:
• a reproducible pocket label
• a bookmark of short, fun facts about the subject
• a fact sheet of background information for teacher and students
• arts and crafts projects
• writing activities
Evaluation forms are provided at the end of the book for teacher and student assessment purposes.
The book includes the following pockets:
• Introduction to Moving West
• The New Frontier
• Exploring the Wilderness
• Missionaries at Work
• On the Oregon Trail
• The Native American Struggle
• Settling the Far West
• The Gold Rush
• Homesteading the Great Plains
• Building the Railroads
This resource contains teacher support pages, reproducible student pages, and an answer key.