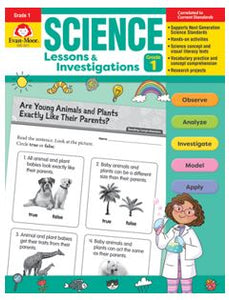 Science Lessons and Investigations presents science learning through in-depth investigation and observation, supporting Next Generation Science Standards (NGSS) in life, earth, and physical science. Each comprehensive unit includes a hands-on engagement activity to allow students to explore and investigate science concepts.

The 14 science units build upon prior knowledge and experience and allow students to apply their understanding in a variety of ways. Each unit guides students through exploring the science concept and includes hands-on, cross-curricular activities to extend learning.

This robust teaching resource gives you everything you need, including:
• Teacher support pages and an answer key
• Unit concept page to guide discussion
• Vocabulary/Words to know
• Reading selections with real-life visual examples
• Comprehension and vocabulary activities
• " I wonder" and/or research and write writing prompts
• Hands-on science investigation that may include science experiments, STEM challenges, observations, art projects, and other creative cross-curricular activities
*Hands-on science investigations include experiments, STEM challenges, observations, art projects, and other cross-curricular projects to enhance learning.
Topics covered in Science Lessons and Investigations grade 1 include:

Life Science
• How Do Animals Use Their Body Parts?
• What Parts Do Plants Have and What Do They Do?
• How Do Body Parts Help Animals Grow and Survive?
• Do Animals Have Babies?
• Do Plants Have Babies?
• Are Young Animals and Plants Exactly Like Their Parents?
• Do Animals from the Same Species Always Look the Same?
• Do All Roses Look the Same?
Earth Science
• Can We Predict Patterns for the Sun, Moon, and Stars?
• Can We Predict the Pattern of the Seasons?
Physical Science
• What Happens When Materials Vibrate?
• What Happens When There Is No Light?
• Where Do Shadows Come From?
• How Do We Communicate Over Long Distances?
For additional STEM projects, see Evan-Moor's STEM Lessons and Challenges series.