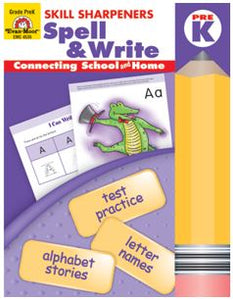 It has been proven that children benefit immensely when parents take an active role in their education. Skill Sharpeners Spell & Write provides grade-specific practice designed to keep written language skills sharp.
Common Core Top Pick for Language
• Conventions of Standard English
• Vocabulary Acquisition and Use
Skill Sharpeners Spell & Write, PreK contains 26 units, one for each letter of the alphabet. Each unit includes an alphabet story and three activity pages to help students identify and write the capital and lowercase letter presented. The unit ends with a Test Your Skills assessment page, where answers are presented in a fill-in-the-bubble test format.
Reading readiness skills practiced include:
• identifying capital and lowercase letters
• vocabulary development
• visual discrimination
Children also develop their fine motor skills by completing the fun activities.
Examples of the types of activities are:
• matching
• trace and write
• circle the same letter