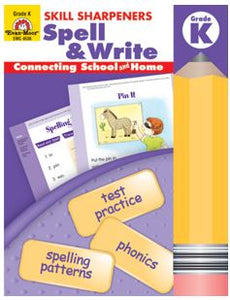 It has been proven that children benefit immensely when parents take an active role in their education. Skill Sharpeners Spell & Write provides grade-specific practice designed to keep written language skills sharp.
Help your kindergartener become a confident writer with Evan-Moor's Skill Sharpeners: Spell and Write.
This kindergarten activity book is ideal for parents wanting to give extra reinforcement at home during the school year or over long breaks from school. It perfectly complements a daily kindergarten curriculum because it focuses on must-learn short vowel word families. Each unit is divided into a single vowel family in addition to introducing vital grammar and punctuation skills. Evan-Moor's Skill Sharpeners: Spell and Write is a top pick for kindergarten homeschool curriculums too.
Common Core Top Pick for Language
• Conventions of Standard English
• Vocabulary Acquisition and Use
Each unit in Spell & Write, Kindergarten is built around a short-vowel word family. A story introduces three word-family spelling words. The spelling words are practiced on a variety of ways in eight spelling and writing activity pages.
The short vowel families in Spell & Write, Kindergarten are –at, -op, -in, -un, -en, -an, -ot, -ig, -et, -ed, -ug, and –it.
Each unit ends with a Test Your Skills assessment page. Students take a spelling test and answer questions about the spelling, grammar, and punctuation skills presented in the unit.