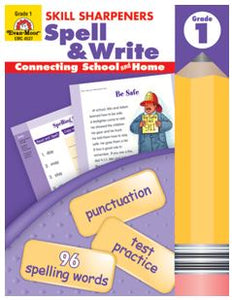 It has been proven that children benefit immensely when parents take an active role in their education. Skill Sharpeners Spell & Write provides grade-specific practice designed to keep written language skills sharp.
Common Core Top Pick for Language
• Conventions of Standard English
• Vocabulary Acquisition and Use
Each of the 12 units in Spell & Write, Grade 1 is introduced by a story that establishes the unit theme and features some of the eight spelling words. Students are then presented with eight activity pages that provide meaningful spelling and writing practice, centering on the unit's theme.
Activities may include practice with:
• grammar and punctuation rules
• vocabulary exercises
• creative writing
• and much more
Each unit ends with a Test Your Skills assessment page. Students take a spelling test, edit a sentence, and answer questions about the skills presented in the unit.