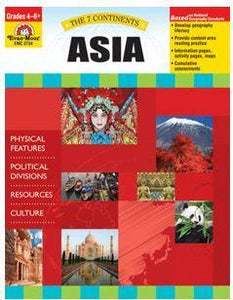 Develop geography literacy while learning about the unique characteristics of Asia!
The 7 Continents: Asia helps students learn about Asia through engaging reading and writing activities.
Five geography units cover the following standards-based topics:
Section 1: Asia in the World
Introduces students to the location of Asia in the world.
Asia's Relative Location
Asia's Hemispheres
Asia's Absolute Location
Using a Projection Map
Section 2: Political Divisions of Asia
Introduces students to the six regions and 50 countries of Asia.
Population of Asia
Countries of Asia
Largest Countries by Area
Largest Countries by Population
Southwest Asia
South Asia
Central Asia
North Asia
East Asia
Southeast Asia
Largest Cities of Asia
Section 3: Physical Features of Asia
Students learn about the landforms and bodies of water of Asia.
Asia's Landscape
The Himalayas
Trek to the Summit of Everest
The Indian Subcontinent
The Arabian and Gobi Deserts
Siberia's Landforms
Japan's Islands
Asia's Tropical Rainforests
Asia's Bodies of Water
Asia's Inland Seas and Lakes
Important Rivers of Asia
Section 4: Valuable Resources of Asia
Students learn about the various natural resources of Asia.
Oil Production in Asia
China's Coal Energy
Fishing in Asia
Rice: An Asia Staple
Asia's Forests
Amazing Wildlife of Asia
Tigers of Asia
Working Animals
Section 5: Asian Culture
Introduces students to the architecture, education, arts, beliefs, and traditions of Asia.
Tourist Attractions
Arts and Entertainment
Major Religions of Asia
Education of Asia
Asian Cuisine
Celebrations
This resource contains teacher support pages, reproducible student pages, and an answer key.