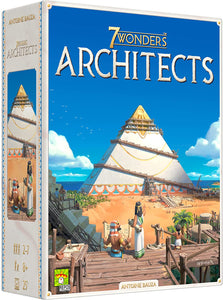 STRATEGY GAME: What's a better testament to your great civilization than an awe-inspiring wonder? In 7 Wonders Architects, you'll have to balance between gathering building materials, developing your civilization's academics, and maintaining a military, all through a unique card drafting system.

CIVILIZATION GAME: You'll develop your civilization and build your wonder by drawing cards from either a deck of face-up cards on your left or on your right. Materials help build your wonder, academics offer victory point bonuses, and military can earn victory points when war erupts.

DRAFTING GAME: The decks to your left and right are always face-up and shared with the players next to you as well. This open information creates a fun balancing act of drafting the card you need or drafting a card to deny another player.

GATEWAY GAME: With streamlined and intuitive rules, 7 Wonders Architects is perfect for younger or new board game players. Being able to host 2 to 7 players also makes it a great choice for game night, with either friends or family!

NUMBER OF PLAYERS AND AVERAGE PLAYTIME: This easy to learn board game for kids and families can be played with 2 to 7 players and is suitable for ages 8 and older. The average playtime is 25 minutes.