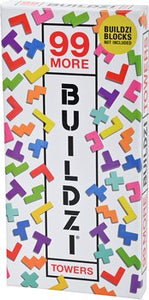 99 More Buildzi Towers Expansion for Buildzi Game
Here's FIVE new types of tower cards with 99 more challenges for BUILDZI towers! Deal out these oversized cards and race to be first to stack - by Number, with one hand, 3D, by 'crazi-color (shape only), or 'flip-flop' (no colors at all). And when you don't want to play a speedy game, check out tenzi.com/buildzi-challenge for some really crazy creations. Let the FUNZI begin! Buildzi blocks not included. For 2-4 players.


From Carma Games, for ages 6 yrs-adult.