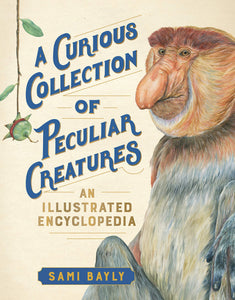 The weirdest (but no less wonderful) creatures in the animal kingdom finally get their turn in the limelight!
Discover the world's wackiest species in 
A Curious Collection of Peculiar Creatures,
 which gives some of the animal kingdom's more overlooked animals a turn in the limelight for a change. Breathtaking scientific illustrations flaunt their unconventional beauty, while fascinating facts about their conservation status, diet, strange quirks, and habitat completes each vivid portrait.
The Bornean orangutan, whose immense cheek pads give it a dinner-plate-like face, is the largest tree-dwelling mammal!
The red-lipped batfish, alas, is a terrible swimmer, with leg-shaped fins better suited to walking along the seafloor.
The mysterious goblin shark, rarely seen by humans, has a long snout and a terrifying flexible jaw to snatch its prey.
These are just a few of this stunning encyclopedia's sixty curious creatures living among us who might not be as cute as a kitten but are no less deserving of our love.