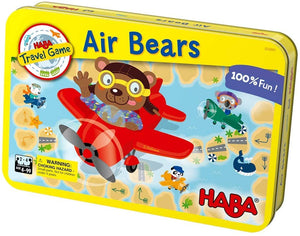 The bears are going on vacation! Players will help all three of their bears reach their final island destination. The first player to get all their bears safely to their vacation islands wins.

Each player places the 3 vacation bears in their color on their airport. To get from the airport to the starting square, a 6 must be spun (3 attempts).

Then move the bears forward the number of dots shown, in a clockwise direction; spin again if you spin a 6; if you land on an occupied square, send the opposing vacation bear back home; you must spin the correct number of dots to land on destination squares.

The game ends as soon as all 3 of a player's vacation bears have flown to the destination island of their color, winning the game

Comes in a compact tin measuring 9.5" x 6". Fun for 2-4 players ages 4 and up. Plays in about 10 minutes.