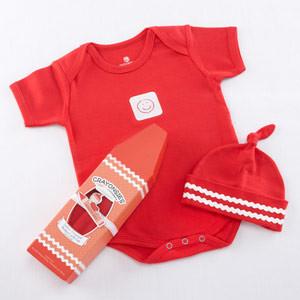 Baby Aspen Crayonsies 2 piece Red Baby Gift Set
Baby Aspen's clever, crayon-inspired, wagon red gift set design will draw the attention of everyone who sees baby in it!
Set the trend and pass up pastels for an uncommonly cute baby gift in a color that gets noticed wherever it goes.
Color rich set includes bodysuit and cap, white applique
3 snap closure for easy access
Made of machine washable 100 % cotton
Gift box measures 10.25"h x 2.75"w x 1.75"