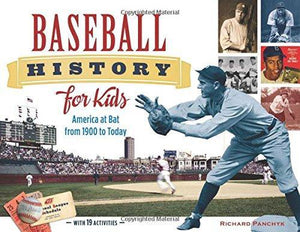 Baseball History for Kids: America at Bat from 1900 to Today, with 19 Activities
Baseball History for Kids is a fascinating and unique journey through the modern history of America's favorite pastime. Kids will discover how the game has changed over the years, reading about topics such as the Dead Ball Era, World War II, segregation and integration, Bonus Babies, the Reserve Clause and Free Agency, and the Designated Hitter. Along the way, they'll enjoy firsthand quotes and stories from more than 175 former major leaguers who were eyewitnesses to and participants in baseball's most incredible feats and biggest moments.
           
Readers will also get an intimate look at the game's greatest legends, from Babe Ruth, Satchel Paige, and Ted Williams to Jackie Robinson, Mickey Mantle, and Willie Mays, including insightful and amusing anecdotes from former teammates and opponents. They will gain additional insight into the game through 19 interesting activities. Children will learn how to calculate a player's batting average and ERA, throw a palmball, design a logo for their favorite team, cook a bowl of Cracker Jack, and more. The book also includes a time line and list of books, websites, and places to visit.