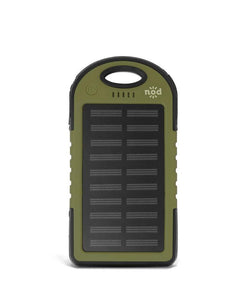 Description:
The Beam Bank is a small, portable rechargeable battery with a built-in solar panel capable of providing (2) full-phone charges. Designed to keep your devices juiced-up while on-the-go, the Beam Bank is made from heavy-duty plastic and rubber, ideal for outdoor use. The solar panel offers a convenient secondary way to charge the Beam Bank using the power of the sun while outdoors!
INCLUDES:

(1) Beam Bank
(1) Carabiner
(1) Micro-USB Charging Cable
Specs:

5.75 in. x 3 in x .75 in.
Made from silicone rubber, PC/ABS plastic
5,000 MAH li-polymer battery
5V/1A (input)-5V/2X1A (output)
5.5v/1.2w solar panel
(2) USB ports
(1) Micro-USB port
Emergency LED-flashlight
Weather-resistant
Dustproof
Shockproof
Water-resistant

CHARGING BEAM BANK

Fully charges in 2-4 hours using micro-USB cable and electrical outlet
Fully charges in 12+ hours with full sun exposure
CHARGING PHONE

Using your smartphone's charging cable, while idling, phone will fully charge in 1-2 hours


Also available in Rose Gold.