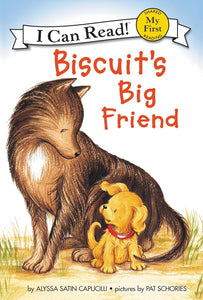 BISCUIT'S BIG FRIEND My First I Can Read
For fans of Clifford and Spot, welcome everybody's favorite little yellow puppy, Biscuit, in an I Can Read adventure!
Ruff! Sam is a big dog and Biscuit's newest friend. Biscuit wants to do everything that Sam does -- like running fast and fetching sticks. But it sure is hard for a puppy like Biscuit to keep up with such a big dog.
In this encouraging story of friendship, Biscuit shows that small puppies can do big things!
 Biscuit's Big Friend, a My First I Can Read book, is carefully crafted using basic language, word repetition, sight words, and sweet illustrations—which means it's perfect for shared reading with emergent readers.