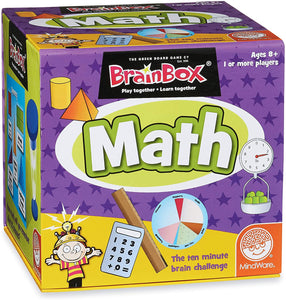 BRAINBOX: MATH
TOYS THAT TEACH: BrainBox Math from MindWare is a colorful and fun way to learn about geometry, fractions, graphing, percentages and more while improving your child's observation and memory skills.

MEMORY BOOSTING: Test your knowledge of geometry, fractions, weights and measures, graphing, percentages, and more with this fun, memory-boosting game.

INDIVIDUAL AND GROUP PLAY: BrainBox Math is a fantastic game for individuals and groups alike. This is a perfect item to use at home and in the classroom.

TEN MINUTE BRAIN CHALLENGE: Players study the pictures-and-facts side of the card for 10 seconds, and then flip to the other side to see how many questions they can answer.

INCLUDES: Includes 55 cards, a sand timer and 8-sided die.
Download Instructions
Download Lesson Plan