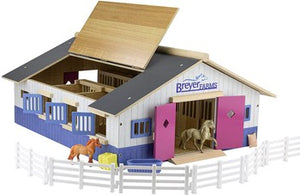 Breyer Farms Stable Playset #59215
DELUXE 19 PIECE WOODEN STABLE PLAYSET - With unique liftable roof panels, working doors and windows, and 7 stalls, the BreyerFarms Stable allows for engaging play from every angle. Whether you're dreaming of a lesson stable or a backyard barn, this set comes with everything you'll need

PRODUCT SPECIFICATIONS: Package contains (1) BreyerFarms Deluxe Stable, 2 Stablemates horses, 12 pieces of fencing, feed bag, water trough, hay bale and sticker sheet to personalize the stable. Stablemates 1:32 Scale. Measures approximately 28"L x 16"W x 8.5"H. Recommended for ages 4 years and older.

ACCESSORIES: Build an entire world with all Stablemates accessories (sold separately) which includes Craft Kits, Playsets, Barns, Vehicles AND Surprise Horse Blind Bags.

HAND CRAFTED DETAIL: The world's 'most asked for' horses since 1950. Each individual Breyer model is prepped and finished by hand and then turned over to the painting department for hand painting and detailing. In all, some 20 artisans work on each individual model horse, creating an exquisite hand-made model horse that is as individual as the horse that inspired it.

TRUE EQUESTRIAN ART: Breyer models begin as beautiful horse sculptures created by leading equine artists that are then cast into a copper and steel mold. Each model is created one at a time from the original mold, which is injected with a special resin selected by Breyer for its ability to capture the depth of detail, delicate feel and richness of color in our models.