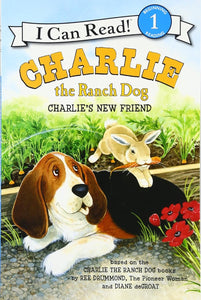 CHARLIE THE RANCH DOG: CHARLIE'S NEW FRIEND I Can Read Level One
Charlie the Ranch Dog may have met his match in Mr. Rabbit, a sneaky ranch animal that steals from Mama's garden. Charlie tries to think up ways to stop the rabbit from eating up all the yummy carrots, but Mr. Rabbit always seems to be one step ahead!
Charlie's New Friend is a Level One I Can Read book, which means it's perfect for children learning to sound out words and sentences. With expressive illustrations by acclaimed artist Diane deGroat and Charlie's hilarious antics, this I Can Read story will become a favorite of parents and beginning readers.