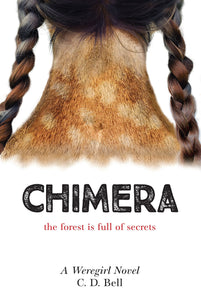 Chimera- Weregirl Trilogy-Hardcover-by CD Bell
The second book in C. D. Bell's Weregirl trilogy, "November's Must-Read YA Book of the Month" - Teen Vogue.

The forest is full of secrets.

And who knows them better than Nessa Kurland, a sixteen-year-old cross-country star with a secret of her own: she can transform at will into a werewolf, and her power grows stronger with every moon.

Nessa returns home from a run with her pack to find an FBI raid and the shocking news that her mother, Vivian, is being arrested for violations so serious she may be facing life in prison. What did Nessa's mother, a small-town vet tech, do to threaten Homeland Security? Vivian's secret past leads Nessa to discover there is more to her story than she ever imagined.

The wolves that are running through Tether's woods are not the same pack Nessa knew before. These are not all natural wolves. And they are breeding.
 
As the lines between science, nature, and magic fade into one another, nothing is as it appears. And the wolves are not the only creatures in the woods.

Nessa's transformation is only just beginning...

Filled with romance, tragedy, perseverance, and adventure, C. D. Bell's CHIMERA is a breathtaking continuation of Nessa's story, as she confronts the truth of who she is, where she comes from, and what she has to do to survive.