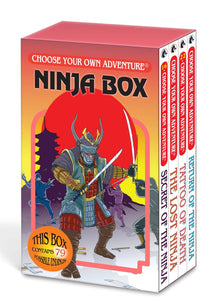 Choose Your Own Adventure 4-Book Boxed Set Ninja Box
This 4-book boxed set of interactive, children's classics includes 4 gamebooks from the Choose Your Own Adventure series: The Lost Ninja, Secret of the Ninja, Return of the Ninja, The Tattoo of Death.
Widely commended for its appeal to reluctant readers, Choose Your Own Adventure is the 4th bestselling gamebook series for children of all time.
These books are different from other books you've read before. There are dangers, choices, adventures, and consequences ahead of you, and only YOU can decide what happens next. BEWARE...the wrong decision could end in disaster--even death. But don't despair, at any time YOU can go back to make another choice and change the path of your story.
This action-packed boxed set takes YOU on over one hundred adventures: Travel to San Francisco and put your ninja skills to the test, investigate a strange relic that arrives at your dojo, and take on powerful warrior priests. At the bottom of every page, YOU must make a choice:
If you decide to let the police handle it, turn to page 48. If you decide to help Saito fake his own death, turn to page 41.
This 4-book boxed set contains 4 bestselling gamebooks for readers ages 9-12 in a bright gift box:
•The Lost Ninja by Jay Leibold Takes YOU to Japan where you are training to become a powerful ninja, but now your skills are needed in San Francisco. You are far from the magical dojo you once called home. Now you practice aikido and catch up with your old friends when you can. But has the dojo s strange curse followed you into your new life?
•Secret of the Ninja by Jay Leibold Takes YOU to Kyoto, Japan where an ancient samurai sword arrives on the doorstep of your dojo. Does the sword hold magical powers? If you trace the history of this ancient relic, will your life be in danger?
•Return of the Ninja by Jay Leibold takes YOU to Japan where there is something terribly wrong at your friend Nada s magical dojo. Nada believes there is an ancient curse so powerful that it is killing her grandmother. YOU are a courageous ninja, but the threats to Nada s dojo will take all of your skills. Will you be a match for the shugenia, warrior priests who hide in the rural mountainside?
•Tattoo of Death by R. A. Montgomery takes YOU to your martial arts studio that has helped guide your lifelong practice of tai chi. But not everyone there embraces the peaceful belief system you do. Your studio is under watch by the notorious Red Flower gang, and they have targeted you as a new recruit!