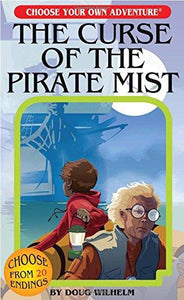 Choose Your Own Adventure Book-Curse of the Pirate Mist #39
The Curse of the Pirate Mist by Doug Wilhelm takes YOU on a daring and dangerous adventure with your uncle in South America. 9-12-year-old readers will search for a sunken World War II vessel rumored to contain three TRILLION dollars' worth of treasure, face down powerful and wealthy crooks, and investigate a mysterious purple mist that blankets the high seas.
Choose Your Own Adventure Curse of the Pirate Mist is an interactive adventure book in which YOU decide what happens next.
Your uncle writes best-selling books about high-stakes adventures and you are his travel buddy. His latest tip has taken you to South America in search of treasure. Do you trust the smooth-talking CEO who smiles just a little too much? Or do you team up with your uncle's friend Lacey, a "treasure enthusiast"? What explanation can you find for the weird purple mist that's been attacking boat crews?
For readers that enjoyed other titles from the Choose Your Own Adventure series including The Abominable Snowman by R. A. Montgomery, Journey Under the Sea by R. A. Montgomery, and Escape from the Haunted Warehouse by Anson Montgomery.