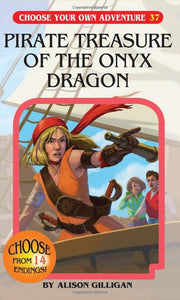 Choose Your Own Adventure Book-Pirate Treasure of the Onyx Dragon #37
Pirate Treasure of the Onyx Dragon by Alison Gilligan takes YOU on a sleuthing adventure with your sister to uncover the mystery of an old shipwreck and your own father's disappearance. 9-12-year-old readers will dig for clues in an old diary, uncover a family secret, go deepsea diving, and foil a plot to steal invaluable jewels.
Choose Your Own Adventure Pirate Treasure of the Onyx Dragon is an interactive adventure book in which YOU decide what happens next.
What is your beloved - but weird! - Aunt Lydia hiding from you and your sister? Going against her wishes and searching for clues about the shipwrecked Onyx Dragon and the jewels it is said to have carried, do you search for a hidden map or follow the mysterious lights that appear in the sky? Do you break up an international crime ring or become a jewelry thief, yourself?
For readers that enjoyed other titles from the Choose Your Own Adventure series including Curse of the Pirate Mist by Doug Wilhelm, The Lost Jewels of Nabooti by R. A. Montgomery, and Terror on the Titanic by Jim Wallace.