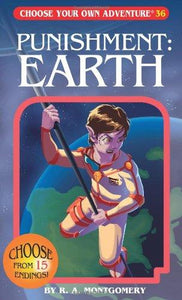 Choose Your Own Adventure Book-Punishment:Earth #36
Punishment: Earth by R. A. Montgomery takes YOU - a young inhabitant of Planet Orca - on a dangerous sci-fi adventure around your planet and through space. 9-12-year-old readers will face down giant warthogs, fly a spaceship over Mach 1, and try blending in with Earthlings after being sent to Earth in punishment by the Supreme Orcan Senate. 

Choose Your Own Adventure Punishment: Earth is an interactive adventure book in which YOU decide what happens next. 

You and your best friend Og get in deep trouble with the elders on your planet, and all for being too curious! How will you spend your exile? Do you choose to visit China or the United States? Should you welcome Earthlings onto your spacecraft at Chichen Itza? 

For readers who enjoyed other titles from the Choose Your Own Adventure series, including Prisoner of the Ant People by R. A. Montgomery, War with the Evil Power Master by R. A. Montgomery, and Moon Quest by Anson Montgomery.