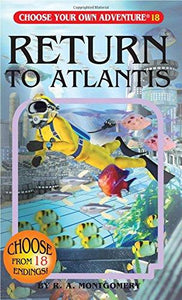 Choose Your Own Adventure Book-Return to Atlantis #18

Return to Atlantis by R. A. Montgomery takes YOU on an underwater adventure in search of the fabled city of Atlantis. 9-12-year-old readers will explore the ocean's depths, try yet again to find the mysterious and wondrous Lost City of Atlantis, which you found years before. Return to Atlantis is a companion book to the bestselling title Journey Under the Sea. 

Choose Your Own Adventure Return to Atlantis is an interactive adventure book in which YOU decide what happens next. 

You are a deep-sea diver on a mission to bring proof back to the surface of the existence of Atlantis. Will you escape the grip of a treacherous king? Or will you stay and fight with the rebel slaves? Will the bends get the best of you? Can the evil Nodoors keep you an ocean prisoner until the end of time? 

For readers who enjoyed other titles from the Choose Your Own Adventure series, including Space and Beyond by R. A. Montgomery, Secret of the Ninja by Jay Leibold, and Journey Under the Sea by R. A. Montgomery.