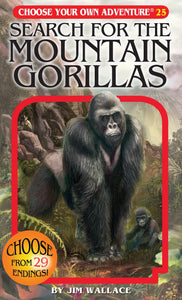 Choose Your Own Adventure Book-Search for the Mountain Gorillas #25
Search For The Mountain Gorillas by Jim Wallace takes YOU on a research adventure through the jungles of Uganda, Africa. 9-12-year-old readers will face the real-life threats to the diminishing gorilla populations; confront poachers, wild buffaloes, and snakes!
Choose Your Own Adventure Search For The Mountain Gorillas is an interactive adventure book in which YOU decide what happens next.
The Ugandan jungle is a dangerous place. One wrong step and it might be your last. A girl from the local village goes missing and the world's eyes are on you when the BBC shows up with a film crew to document your work. Will you find the missing girl? Can you save the mountain gorillas? Or will YOU be the one that ultimately needs saving?
For readers who enjoyed other titles from the Choose Your Own Adventure series, including The Abominable Snowman R. A. Montgomery, Journey Under the Sea by R. A. Montgomery, and Space and Beyond by R. A. Montgomery.