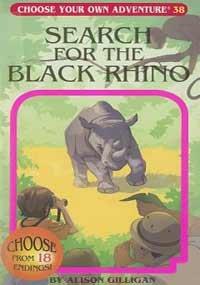 Choose Your Own Adventure Book-Search of the Black Rhino #38
Search for the Black Rhino by Alison Gilligan takes YOU on a daring and dangerous adventure with your parents and uncle Bennett in Africa. 9-12 year old readers will help get to the bottom of the sabotage threatening the family company, encounter flamingoes, baboons, and other wildlife on safari, make new friends while visiting a Masai village, and help take down a poaching ring threatening the black rhinos.
Choose Your Own Adventure Search for the Black Rhino is an interactive adventure book in which YOU decide what happens next.
You have been looking forward to this Spring Break for months - a trip to Africa with your parents! But who is the mysterious "LJ" you overhear your mother's boss warning her about? How is the FBI involved? Who might be tampering with your family's coffee business? And what dangers are facing the wildlife - or you - in the grasslands around Lake Nakuru?
For readers that enjoyed other titles from the Choose Your Own Adventure series including: Race Forever by R. A. Montgomery, The Lost Jewels of Nabooti by R. A. Montgomery, and Search for the Mountain Gorillas by Jim Wallace.