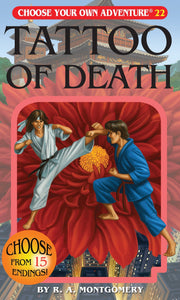 Choose Your Own Adventure Book-Tattoo of Death#22
Tattoo of Death by R. A. Montgomery takes YOU on a high-stakes martial arts adventure in Los Angeles, California. 9-12-year-old readers will stand up to a gang of smugglers, refusing to give in to their criminal demands, fleeing the city in a high-speed chase down Route 66, and testifying in court to put the crooks behind bars. 

Choose Your Own Adventure Tattoo of Death is an interactive adventure book in which YOU decide what happens next. 

You befriend two boys at your martial arts studio, and before you know it, they force you to join their gang, the notorious Red Flowers! Do you allow them to blackmail you? Or do you hide out in your parents' beach house to devise a plan? What do you do with the mysterious package they ask you to deliver? 

For readers who enjoyed other titles from the Choose Your Own Adventure series, including Struggle Down Under by Shannon Gilligan, Secret of the Ninja by Jay Leibold, and Cup of Death by Shannon Gilligan.