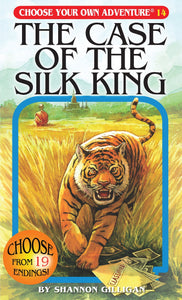 Choose Your Own Adventure Book-The Case of the Silk King#14

The Case of the Silk King by Shannon Gilligan takes YOU on a detective-style adventure as you explore Asia for the missing "Silk King," Jim Thompson. 9-12-year-old readers will journey to Bangkok, Thailand, following a lead received a mysterious package containing $2,000, a plane ticket, and a strange newspaper clipping.
Choose Your Own Adventure The Case of the Silk King is an interactive adventure book in which YOU decide what happens next.
In 1967, Jim Thompson, a famous businessman with connections to the CIA, went missing in Malaysia. You are a detective with an eye for a good case, so hopping a plane to Asia isn't out of the ordinary. When you land, will you find that you're not the only one on the case? Who kidnapped Jim Thompson? Will you be next?
For readers who enjoyed other titles from the Choose Your Own Adventure series, including The Lost Jewels of Nabooti by R. A. Montgomery, Cup Of Death by Shannon Gilligan, and Mystery of the Mayaby R. A. Montgomery.