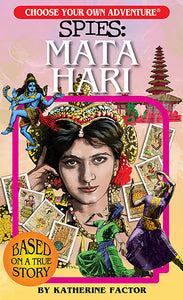 Choose Your Own Adventure SPIES: Mata Hari by Katherine Factor takes YOU around the world and back in time. 9-12 year old readers will enact the early life of an actual historic spy, Margaretha Zelle, who was best known by her stage name, "Mata Hari." More than a dancer and spy, Mata Hari was an intelligent and courageous feminist; a resourceful survivor; and an adventurous spirit who lived dangerously.
Choose Your Own Adventure SPIES: Mata Hari is an interactive gamebook in which YOU decide what happens next.
The year is 1915, and YOU are young Margaretha Zelle, a world-famous dancer from the Netherlands. You have just arrived in Bali, Indonesia with your dance troupe when your best friend Althea goes missing. As a master of tongues and disguises, who better to save her? Your trek through the mysterious Balinese jungle might lead you to a top secret spy school, but if you leave now, you will miss your chance to audition for the performance of a lifetime.
For readers who enjoyed other titles from the Choose Your Own Adventure series including: Secret of the Ninja by Jay Leibold, Cup of Death by Shannon Gilligan, and Terror on the Titanic by Jim Wallace