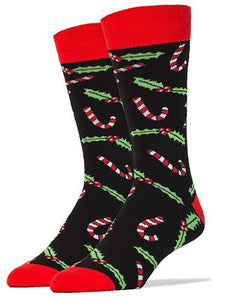 Christmas All Over Men's Crew Socks
70% Combed Cotton/27% Nylon/3% Spandex
COMBED COTTON Socks size 10-13. One size fits most men.
BOLD & BRIGHT - Welcome to the year of the pattern. Whether you prefer to wear them on shirts, pants, or blazers, bold patterns are taking the world by storm. Socks aren't immune from the pattern fever, and for good reason- colorful socks add a unique punch to any outfit, from dressy suits to casual jeans.
QUALITY CONSTRUCTION - Oooh Yeah Socks! are constructed to look good and built to last. The high-quality construction gives these socks extra durability and flexibility during wear. For you, this means a pair of socks great for all day wear, no matter what you're up to. Standing on your feet working, formal events, even lounging around the house, Oooh Yeah Socks! are great for any occasion.
COMFORT - Ideal socks provide you with endless comfort and fit just right. Luckily, Oooh Yeah Socks! have the most comfortable socks around. Made from luxury combed cotton, these socks are super soft and lightweight, allowing your feet to breathe and stay cool during strenuous activity. The thin elastic edging around the opening ensures the sock lays flat against your feet, and prevents them from sliding down.
WASHING - Keep your socks looking their best for years to come. Oooh Yeah Socks! can be washed by machine or by hand. Machine wash cold with no bleach and hang to dry. Tumble drying, ironing, and dry cleaning are not recommended.