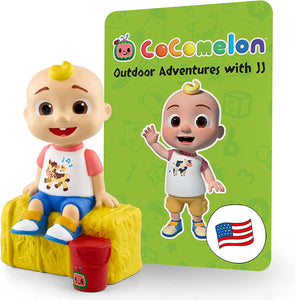 Tonies CoComelon Outdoor Adventures with JJ Audio Play Character
Come along with JJ to the outdoors to discover a world of animals, weather, and musical adventures!

Teaches children about animals, counting, and outdoor fun.

Includes Outdoor Adventures with JJ toy character with 20 songs and total run time of approximately 58 minutes. Recommended Age Range: 3+, Language: English.

Tracklist: Songs: 1) Old MacDonald, 2) 12345 Once I Caught A Fish Alive, 3) Animal Dance Song, 4) Ants Go Marching, 5) Baa Baa Black Sheep, 6) Mary Had a Little Lamb, 7) My Dog Song (Bingo), 8) Guess the Animal Song, 9) Dinosaur Song, 10) Ten Little Duckies, 11) Numbers Song with Little Chicks, 12) Musical Instruments Song, 13) One Potato Two Potato, 14) Humpty Dumpty, 15) Helping Song, 16) Daisy Bell, 17) Wash Your Hands Song, 18) Balloon Boat Race, 19) Rain Rain Go Away, 20) Jobs and Career Song.

Requires Toniebox Audio Player to play audio; sold separately.