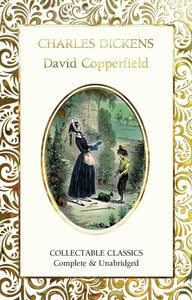 Collectable Classics: David Copperfield by Charles Dickens
The FLAME TREE COLLECTABLE CLASSICS are chosen to create a delightful and timeless home library. Each stunning edition features deluxe cover treatments, ribbon markers, luxury endpapers and gilded edges. The unabridged text is accompanied by a Glossary of Victorian and Literary terms produced for the modern reader.

David Copperfield is the story of a hard life endured is ultimately rewarded because of perseverance, kindness and common sense. Copperfield loses his father as a child, his mother then marries Murdstone, a cruel man who oppresses her and sends the boy away from home to a hostel. His mother dies, then Copperfield is sent to a factory, before running away to his Aunt Betsey Trotwood who protects him and whose relationship he maintains throughout his life. Further suffering follows though when Copperfield's first wife dies in childbirth, but by the end of the novel he too marries once more, finally to live towards a happy end, with Agnes and their three children. Throughout, Dickens highlights the systemic abuse of the weak, the ill, and, often, the female, eager to show that society is at fault for poverty, not the individual, so the poor should be helped, not victimised.