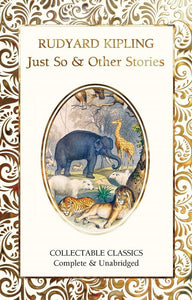 Collectable Classics: Just So & Other Stories by Rudyard Kipling
Little treasures, the FLAME TREE COLLECTABLE CLASSICS are chosen to create a delightful and timeless home library. Each stunning, gift edition features deluxe cover treatments, ribbon markers, luxury endpapers and gilded edges. The unabridged text is accompanied by a Glossary of Victorian and Literary terms produced for the modern reader.

Among Rudyard Kipling's best known works, Just So Stories is a collection of stories for children that began as bedtime stories that Kipling told to his daughter. Each one is an imaginative and joyful explanation of an origin – for example, one story is 'How the Camel Got His Hump' and another is 'How the Leopard Got His Spots'. There are also stories explaining how the alphabet came to be, why the tides ebb and flow and how man domesticated wild animals. It was published to high praise and has since become a children's classic, loved by many.