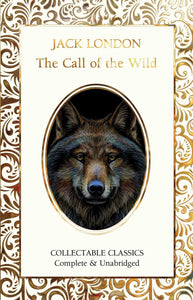 Collectable Classics: The Call of the Wild by Jack London
Little treasures, the FLAME TREE COLLECTABLE CLASSICS are chosen to create a delightful and timeless home library. Each stunning, gift edition features deluxe cover treatments, ribbon markers, luxury endpapers and gilded edges. The unabridged text is accompanied by a Glossary of Victorian and Literary terms produced for the modern reader.

The tale of Buck, abducted and mistreated and his gradual adaptation to the wild is a much heralded celebration of the power of instinct and the natural world. This edition includes four short stories: 'The Son of the Wolf', 'To the Man on the Trail', 'The Wisdom of the Trail' and 'An Odyssey of the North'.