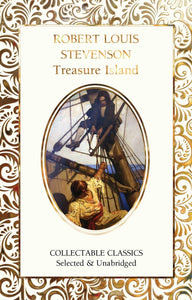 Collectable Classics: Treasure Island by Robert Louis Stevenson
Little treasures, the FLAME TREE COLLECTABLE CLASSICS are chosen to create a delightful and timeless home library. Each stunning, gift edition features deluxe cover treatments, ribbon markers, luxury endpapers and gilded edges. The unabridged text is accompanied by a Glossary of Victorian and Literary terms produced for the modern reader.

The very name of Robert Louis Stevenson is synonymous with storytelling adventures, Treasure Island being one of the most popular books in English literature. Its racing narrative pace takes the young Jim Hawkins on a lively escapade that's fired the imagination of many generations of readers. Mysterious maps, Long John Silver and his parrot, buried treasures, tropical islands, leafy palms and endless blue seas, innocence and treachery, the complicated path between good and evil, all conspire to deliver a powerful addition to any collection of tall tales and essential reads.