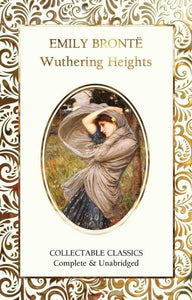 Collectable Classics Wuthering Heights by Emily Bronte
The FLAME TREE COLLECTABLE CLASSICS are chosen to create a delightful and timeless home library. Each stunning edition features deluxe cover treatments, ribbon markers, luxury endpapers and gilded edges. The unabridged text is accompanied by a Glossary of Victorian and Literary terms produced for the modern reader.

It isn't known when Emily Brontë began work on the imaginative and passionate story titled Wuthering Heights, which was published in 1847. The distinguished novel is set in a remote Yorkshire village in the eighteenth century, and the narrative explores the love between Catherine Earnshaw and Heathcliff, an abandoned child adopted by Mr. Earnshaw. Their story unfolds alongside a background of poetic imagery, dry humour and rich imagination. Themes of violence and revenge create an intense power in this unique and ground-breaking novel.