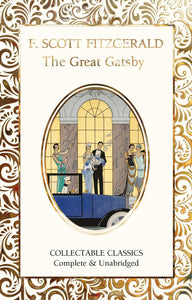 Collectable Classics: The Great Gatesby by F. Scott Fitzgerald
Little treasures, the FLAME TREE COLLECTABLE CLASSICS are chosen to create a delightful and timeless home library. Each stunning, gift edition features deluxe cover treatments, ribbon markers, luxury endpapers and gilded edges. The unabridged text is accompanied by a Glossary of Victorian and Literary terms produced for the modern reader.

Considered to be F. Scott Fitzgerald's greatest work, The Great Gatsby is a vivid and timely portrait of the allure and dangerous excess of Jazz Age. The novel follows narrator Nick Carraway, newly arrived to the town of West Egg, Long Island, as his life becomes intertwined with that of Jay Gatsby, his rich and enigmatic neighbour. What ensues is a tale of thwarted love and tragedy as Fitzgerald explores the hollowness of materialism and the corruption of the American Dream.

Also includes the short story, Winter Dreams which explores similar themes to The Great Gatsby.