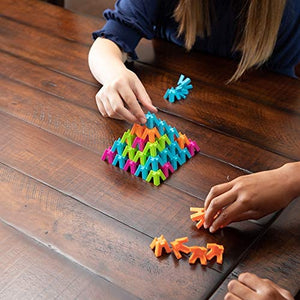 Each player gets 20 game pieces of one color. On each turn, players have to place one of their piece adjacent to or on top of the other pieces within a 4x4 grid, building a pyramid as they go.
When a 2x2 square is completed, whoever has the most pieces within that 2x2 square gets to place one of their pieces on top of those four.
Can you trick everyone else into providing you with the best moves?
The game continues until the last piece of the pyramid is placed. Then, start counting up the corners. - Whoever is occupying the most corners wins the game!
Planning, timing, and luck combine into one thrilling challenge with the tricky game of Corners Up.
Corners Up
Game of strategically stacking game pieces to try and collect corners
Encourages fine motor skills, spatial reasoning, strategy, critical thinking, problem-solving
Players take turns placing pieces onto playing surface adjacent to other pieces
The bottom layer of the pyramid is limited to a 4x4 square
When a 2x2 square is created, the player with the most pieces gets to place a piece on top of it
The game ends when the pyramid is completed
Whoever occupies the most corners of the pyramid wins the game
Includes 80 stacking pieces (20 of 4 colors)
Detailed game rules and instructions included
High-quality materials and construction - Lasting durability