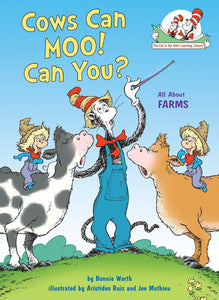 Cows Can Moo! Can You?: All About Farms Cat in the Hat Learning Library
Join the Cat in the Hat as he spends a day on the farm with Mr. and Mrs. Greenbean and their three little Greenbeans: Jean, Dean, and baby Irene! From dawn to dusk, kids will see cows being milked, chickens being fed, sheep being sheered, fields being tilled, fertilized, reaped, mowed, irrigated—and lots more!

Ideal for kids who love animals AND for kids who love machines (in other words, all kids), this is a perfect choice for families making their first visit to a farm or petting zoo, or for explaining where food comes from. Fans of the hit PBS show The Cat in the Hat Knows a Lot About That! will be delighted at this new—and long overdue—addition to the Learning Library series.