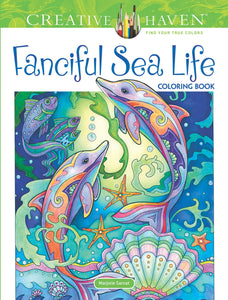 "This is a very well-designed coloring book, with original artworks, even line-widths, and a lovely and playful design style that is as attractive as it is fun to color. Excellent, high quality coloring book!" — Daily Greet
This imaginative collection of 31 wondrous designs features a variety of stylized ocean creatures with highly detailed and decorative backgrounds. Images include schools of exotic fish, a sunken ship and treasure chest, a seashell castle, and such underwater dwellers as jellyfish, an octopus, sea turtles, striped angelfish, whales, and more. Pages are perforated and printed on one side only for easy removal and display. Specially designed for experienced colorists, 
Fanciful Sea Life
and other Creative Haven® adult coloring books offer an escape to a world of inspiration and artistic fulfillment. Each title is also an effective and fun-filled way to relax and reduce stress.