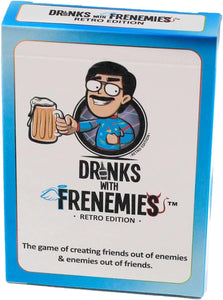 Drinks with Frenemies Retro Edition
ENTERTAINING PARTY GAME: DRINKS with FRENEMIES is a party game for people who like games, drinking and sabotaging their friends. Simply put, it's THE SABOTAGING PARTY GAME…where friends become enemies and enemies become frenemies. This party game will keep you on your toes as you adjust to the ever-changing rules.

FAMILY FRIENDLY DRINKING GAME: Drinking alcohol is NOT REQUIRED! You can play with any type of beverage you prefer. There are even gameplay rules for those who wish not to drink at all. There's no perfect way to ruin… uh… enhance your relationships!

GREAT ICEBREAKER GAME: This party game gets you moving, thinking and laughing. It's instantly playable with rules that are simple to follow and cards that are easy to understand. It's just as much fun to watch others play as it is to play the game yourself. It's a great addition to any game night, pre-game or party and makes for a great gift for birthdays, graduations and holidays!

RETRO EDITION: This deck is an outrageous and original adaptation of popular drinking games like King's Cup, Ring of Fire and Circle of Death! This edition is compatible with all other DRINKS with FRENEMIES editions. All editions have the same card back and the edition name is listed on the front of the card.

NUMBER OF PLAYERS AND AVERAGE PLAYTIME: This fun party game is designed for 3 or more players and is suitable for ages 16 and older. Average playtime is approximately 10 to 60 minutes.