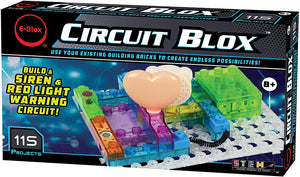 ENHANCES CREATIVITY AND IMAGINATION - Through the joy of play and discovery, children can innovate, integrate, and be inspired as they plug-together different bricks and modules to create a variety of toys and games that light up and make sounds. Not your ordinary blocks!

115 EXCITING PROJECTS - Create endless possibilities with the 115 different projects that you can build in this E-Blox Building Blocks Kit. Using 37 different parts, children can build a siren, red light warning circuit, and a lot more, by following the Manual Instructions provided.

COMPLETE SET - This building blocks kit for kids includes a maze, hand-crank generator, press switch, push-button switch, reed switch, lamp, LEDs, alarm, and other parts and accessories needed in creating 115 different projects. Requires 3 "AA" batteries.

STREAM TOY - E-Blox toys are designed to stimulate a child's imagination and creativity, teaching every child to investigate the world through interactive storytelling, creative reasoning, and systematic building of objects. They offer STREAM education – Science, Technology, Reading and Writing, Engineering, the Arts, and Math – through the joy of play and discovery.

FOR KIDS AGES 8 AND UP - This building blox set are assured to be suitable for children ages 8 and up. Set includes an informational manual to guide your children as they build their very own masterpieces with safety.