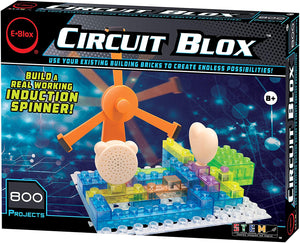 FUN DISCOVERY - Through the joy of play and discovery, children can innovate, integrate, and be inspired as they plug-together different bricks and modules to create a variety of toys and games that light up and make sounds. Not your ordinary blocks!

800 EXCITING PROJECTS - Create endless possibilities with the 115 different projects that you can build in this E-Blox Building Blocks Kit. Using 68 different parts, children can build different lights, create entertaining sounds, spin a motor and fan, and a lot more, by following the Manual Instructions provided.

COMPLETE SET - This building blocks kit for kids includes various switches, lamp, heart and star LEDs, speaker, audio block, buzzer, inductor, windmill, motor, resistors, photoresistor, variable resistor, capacitors, transistors, and other parts and accessories needed in creating 800 different projects. Requires 3 "AA" batteries.

STREAM TOY - E-Blox toys are designed to stimulate child's imagination and creativity, teaching every child to investigate the world through interactive storytelling, creative reasoning, and systematic building of objects. They offer STREAM education – Science, Technology, Reading and Writing, Engineering, the Arts, and Math – through the joy of play and

discovery.

FOR KIDS AGES 8 AND UP - This building blox set are assured to be suitable for children ages 8 and up. Set includes an informational manual to guide your children as they build their very own masterpieces with safety.