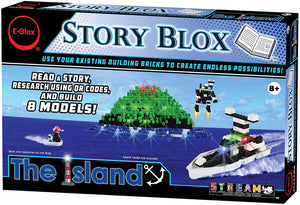 FUN AND EDUCATIONAL - Kids can learn while having fun in this E-Blox's The Island Building Blocks set! This educational toy allows your child to enjoy integrating different parts in order to build cool electronic components that actually make motions. Not your ordinary blocks!

STORY TIME - The Island is a chapter in the E-Blox novelette "Earth One" . Follow the adventures of Seymour and his robot Robyn as he investigates a mysterious light in the distant ocean horizon.

COMPLETE SET - Models are built in several parts of the story with the over 100 included parts, further enhancing the learning experience. Read a story, research using QR codes, and build 8 different models with this cool and amazing kit!

STREAM TOY - E-Blox toys are designed to stimulate child's imagination and creativity, teaching every child to investigate the world through interactive storytelling, creative reasoning, and systematic building of objects. They offer STREAM education – Science, Technology, Reading and Writing, Engineering, the Arts, and Math – through the joy of play and discovery.

FOR KIDS AGES 8 AND UP - This building blox set are assured to be suitable for children ages 8 and up. Set includes an informational manual to guide your children as they build their very own masterpieces with safety.