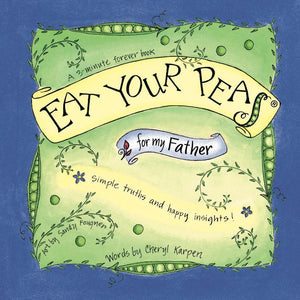 Eat Your Peas for My Father Book
                 A gift only you can give
Between the covers of this little book are tender, timely words for your amazing dad.
Words of Gratitude and Grace. Affirmation too.
And above all a promise to savor this most precious of relationships.
Chances are, he has been waiting all your life to know what's in your heart.
A cherished gift for Father's Day, Christmas, birthdays, retirement and for everyday love and adoration. 
72 pages, four-color, paperback with a matte laminate, includes a decorative envelope for mailing.
 Homegrown in the USA
Product Dimensions:

 

5.5 x 0.2 x 5.5 inches