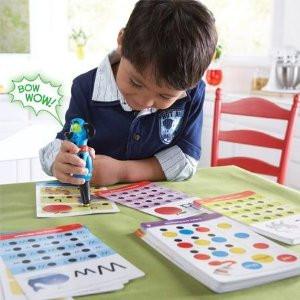 Concepts:
Practice key early learning skills with fun activities using our talking pen friend.
Targets colors, letters, numbers, shapes, patterns and more in an engaging game play format.
Features Ace - the Talking, Teaching Dog - an interactive stylus that uses fun sound effects, encouraging phrases, and blinking lights to guide children through 160 different activities.
Additional pens available separately to allow multiple children to use a kit at once
Provides immediate feedback that rewards progress and corrects mistakes so children can learn at their own pace.
Includes 80 richly illustrated, double-sided Activity Cards that are pressure-sensitive and work with Talking Hot Dots Pen.