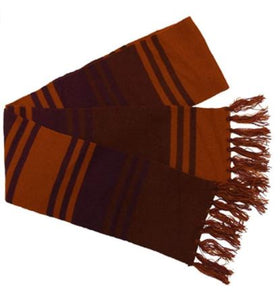 Elope Dr. Who Fourth Doctor Purple Knit Scarf 6'
Acrylic

CARE FOR A JELLY BABY?: Show off your quirky Gallifreyan side with this BBC Doctor Who Fourth Doctor Purple Six Foot Knit Scarf by elope

FUN ALL YEAR ROUND: Great for gifts, costuming, cosplay, or whimsical wear all year round.

LICENSED: Officially licensed merchandise for Doctor Who from BBC Studios Limited

PURPLE AND PERFECT: Featuring dark bands of purple and orange acrylic knit, this scarf is ready for everyday cosplay or your next comic convention

EXCELLENT QUALITY: Designed for you with love and laughter by the elope team in Colorado Springs, USA; Manufactured in China.