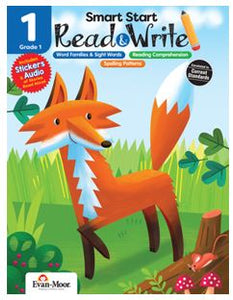 Help your child become a reader and writer with Smart Start: Read and Write! Developed by teachers, the colorful activities provide the perfect combination of fun and practice to give your child the foundation needed for academic success.

The grade 1 Smart Start: Read and Write workbook helps your child identify word family spelling patterns, practice rhyming words, and read and write simple sentences.
• Accelerate your child's reading progress: 20 easy-to-follow weekly lessons help your child increase reading and vocabulary with word families.
• Creative and fun lessons: Keep your child entertained while learning.
• Reward stickers: Motivate your child to complete the activities.
• Audio stories: Provide an option to listen to the audio story with your child.
The activity book is organized into weekly lessons around word families such as "an" and "at" and "ig" and "in." Activities focus on practicing two different word family patterns a week.

Every themed unit follows a similar format and includes:
• Alphabet stories: Introduce two word family patterns and include an audio read-aloud option.
• Spell It! activities: Focus on writing and vocabulary.
• Write It! activities: Provide practice reading and writing simple sentences.
• Read It! activities: Provide reading and reading comprehension practice.
• Find It! activities: Provide fun word searches around the word families of the week.
• Let's Review! activities: This simple review activity helps you evaluate your child's understanding of word families and provides additional practice.
Practice important first grade skills in Smart Start: Read and Write, such as:
• Writing and reading simple words and sentences
• Identifying word family patterns
• Reading comprehension
• Vocabulary
• Following directions
• Fine motor skills
Includes answer key.
Check out Smart Start: STEM activity books for fun hands-on projects that develop problem-solving and critical thinking skills.